Psychic Source Launches New Program To Donate On Behalf Of Every Purchase
Posted By Editor
Posted on January 19, 2017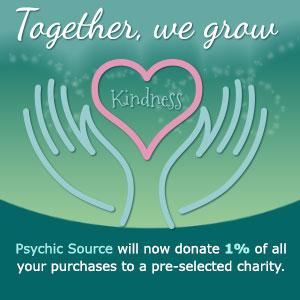 Can we get three cheers for kindness?! In light of the negativity we see on the news, read on our Facebook feeds, and skim on Twitter, Psychic Source, a highly respected psychic service going on their 28th year in business, launched a program on January 18th that will spread benevolence and positivity around the world. Now that's something worth sharing.
Psychic Source's Kindness initiative is about coming together to be a part of something bigger. The company has vowed to donate 1% of all current and future purchases to the charity of the customer's choice. All a customer has to do is elect a charity and Psychic Source will do the rest.
The following charities are available to choose from:
• Futures Without Violence – Ending domestic violence/child abuse
• Paws with a Cause – Assistance dogs for the disabled
• National Center for Housing & Child Welfare – Improving the lives of America's most economically disadvantaged youth and families.
Maryanne Fiedler, Marketing Director at Psychic Source, is excited to share the launch of this program: "Regardless of what people believe about psychics, it's not always about predicting the future or connecting with the dead. Much of it is about helping people overcome their problems and giving them the confidence they need to live their best lives—that's always been number one," she explains. "Now, in addition to providing advice and guidance, we found another way to give back and contribute to those who need it most."
Making an impact on people's lives isn't new to this company; it's what Psychic Source was founded on. Peace, wellness, and happiness are at its core values. Employees volunteer their time for events of their choice or host charity luncheons and the company supports philanthropic endeavors. Staff members enjoy on-site yoga classes and unlimited paid vacation time (seriously). Profits take a back seat to humanity's health and happiness. How many companies can you truly say that of?
To kick-start the Kindness movement, Psychic Source has launched an uplifting social media campaign encouraging people to share "random acts of kindness" via written posts, photos, or videos. #RevealKindness or show gratitude today by logging onto their Facebook page.
The Kindness program is just the beginning. Psychic Source has future plans to energize both Advisors and customers to get involved in their local communities. More details on this will be released at a later date.